DMR V12 Magnesium Pedals (9/16) White
RRP £69.99
Our Price £62.99 (Save 10%)
Add this product to your basket...
DMR V12 Magnesium Pedals (9/16) White

MPN: DMR-VV12MAG-W

RRP £69.99

Our Price £62.99 (Save 10%)
Description: DMR V12 Magnesium Pedals (9/16) White
Over its 18 years of production the DMR V12 has become recognized as the benchmark for flat pedal performance. We took our iconic V12 body design and redefined it. The DMR V12 Magnesium is the Light-weight Magnesium version of the standard V12.
LARGER PLATFORM AREA: The new DMR V12 Magnesium [Mg] offers 10% more surface area than the classic shape. This means better grip and also support for rougher conditions and bigger hits.
LOWER PROFILE: At just 16mm deep the V12 is as slim as we could go whilst still retaining our legendary concave feel.
LIGHTER WEIGHT: There is a 20% weight saving from the last V12 with the standard version weighing under 430g per pair and the Magnesium at just 350g. The V12 runs on fully sealed bearings and a cro-mo axle. All pins on the pedal are replaceable and tuneable for preferred grip.
DMR V12 Magnesium Pedal colours: V12 Magnesium Black | V12 Magnesium Grey | V12 Magnesium White
Full Specification: DMR V12 Magnesium Pedals (9/16) White
Sealed Bearings
Cro-Mo Axle
Classic DMR Concave
350g per pair
You may also be interested in the following products...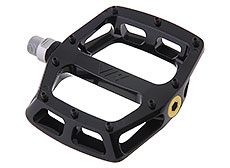 DMR V12 Magnesium Pedals (9/16) Black
RRP £69.99 Our Price £62.99 (Save 10%)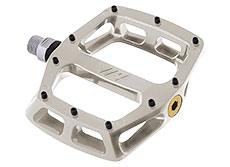 DMR V12 Magnesium Pedals (9/16) Grey
RRP £69.99 Our Price £62.99 (Save 10%)