DMR Vault Pedals (9/16) Blue
RRP £99.99
Our Price £89.99 (Save 10%)
Add this product to your basket...
DMR Vault Pedals (9/16) Blue

MPN: DMR-VAULT-B

RRP £99.99

Our Price £89.99 (Save 10%)
Description: DMR Vault Pedals (9/16) Blue
The DMR Vault pedal is a tuneable flat pedal designed specifically for riders who want a bigger platform. Equally at home on an all mountain or downhill setup, the DMR Vault pedal offers great stability and grip for the bumpiest of trails.
DMR Vault Pedal colours: Vault Black | Vault Blue | Vault Nickel Grey | Vault Orange | Vault Red | Vault Silver | Vault White | Vault Show Chrome
Full Specification: DMR Vault Pedals (9/16) Blue
105mm x 105mm Platform area
17mm Concave
400g per pair
Extruded 6061 Aluminium and 4140 Cro-mo Steel axles
11 pins per pedal. Flip the pins to fine-tune the grip
High load DU bush and cartridge bearing
You may also be interested in the following products...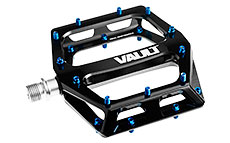 RRP £99.99 Our Price £89.99 (Save 10%)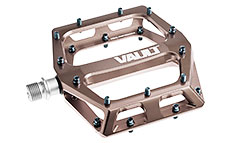 DMR Vault Pedals (9/16) Nickel Grey
RRP £99.99 Our Price £89.99 (Save 10%)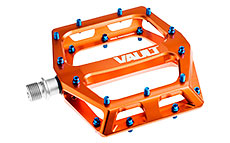 DMR Vault Pedals (9/16) Orange
RRP £99.99 Our Price £89.99 (Save 10%)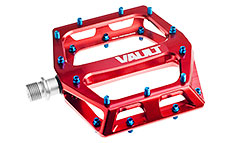 RRP £99.99 Our Price £89.99 (Save 10%)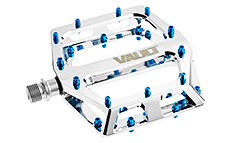 DMR Vault Pedals (9/16) Show Chrome
RRP £109.99 Our Price £98.99 (Save 10%)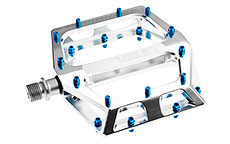 DMR Vault Pedals (9/16) Silver
RRP £99.99 Our Price £89.99 (Save 10%)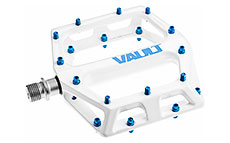 RRP £99.99 Our Price £89.99 (Save 10%)