Orange 2017 Five Factory 27.5
Our Price From £5,395.00*
*exact price is dependent on options selected below
Add this product to your basket or calculate finance costs...
For detailed information about frame sizes – please view the frame size guide at the bottom of this page.
Description: Orange Five Factory 27.5 2017 Full Suspension Mountain Bike
The hardworking Orange Five has been a stalwart of our range for a long time. It's tough, reliable and capable. The harder you push it the happier it seems to be. So we better make sure we don't mess with it right?

It was last updated a year and a half ago, it was time to see what we could do for the new Orange Five. We liked the way the Four rode, and how it's suspension action had a really active feel to it, we set about seeing how we could bring this same element to the Five's set-up. To add the new compact rear suspension layout to the Orange Five would be ideal, but where would we fit the shock? In theory lower in the frame, in practice, not so easy. But if it was easy, it wouldn't be worth doing, and the guys in the frame department came up with the goods. Like the solving of a complex engineering puzzle we worked out a way to lower the shock by adding a new pressing in the fabrication of the downtube, leading the way to the compact rear on the Orange Five and improving the shock's ramp-up at the same time.

That isn't all, we've added extra strength-forming features to all the major frame assemblies, improving resistance to lateral flex and twisting forces. Boost sizing at the rear hub and an extra 6mm in the pivot spacing helps here too, enabling us to add more tyre clearance. And if that's not enough, the CNC department found weight savings in the billet machined parts to build up the lightest Orange Five we've ever produced. Geometry is optimised for a 150mm travel fork, while the rear sits at the 140mm trail bike sweet spot.

We love the ride of the new Orange Five, its lively 'pop' has to be experienced, and when pushed hard the bike gives back to the rider. Grip, feel and a lively ride all there in abundance.

The ultimate, specification and performance make the Orange Five Factory the top of the range choice for the rider that truly appreciates highest level components to get the most out of their bike.
Sunset offers the 2017 Orange Five Factory 27.5 full suspension mountain bike with up to 36 months 0% finance and free delivery.
The 2017 Orange FIVE range: Five Frame | Five S | Five Pro | Five RS | Five RS - Hope Edition | Five Factory
Full Specification: Orange Five Factory 27.5 2017 Full Suspension Mountain Bike
Frame & Fork
Tubeset
6061-T6 Monocoque UK Formed Custom Aluminium Tubing
Rear Axle
12 x 148mm OLD Bolt Thru Axle
Fork
Fox 36 Factory Kashima 150mm Boost HSC/LSC
Rear Shock
Fox Float X EVol Factory Kashima 190 x 51mm
Headset
Hope ZS49/28.6 EC49/40 (4F) Black
Drivetrain
Crankset
SRAM X0-1 Eagle Carbon 32t
Front Mech
Top Guide Chain Device
Rear Mech
Sram X0-1 Carbon Eagle 12spd
Cassette
SRAM X0-1 Eagle 10-50 12spd
Shifters
Sram X0-1 Eagle 12spd
Bottom Bracket
Sram GXP Team
Chain
SRAM XO-1 EAGLE 12spd
Wheels & Tyres
Wheelset
Hope Pro 4 (Black) + Raceface Arc 30 27.5" (Grey)
Tyres
Maxxis High Roller II 2.4 3c TR Exo / High Roller
Braking
Brakes
SRAM Ultimate 200mm/180mm
Finishing Kit
Stem
Race Face Atlas M35 x 35mm Extension
Handlebar
Race Face SIXC 35 20mm Riser Carbon 800mm
Grips
Race Face Half Nelson
Seatpost
Rockshox Reverb Stealth Connectamajig 150mm
Saddle
SDG Strange Fly Mtn
Seat Clamp
Hope QR Black
Pedals
Size Guide: Orange Five Factory 27.5 2017 Full Suspension Mountain Bike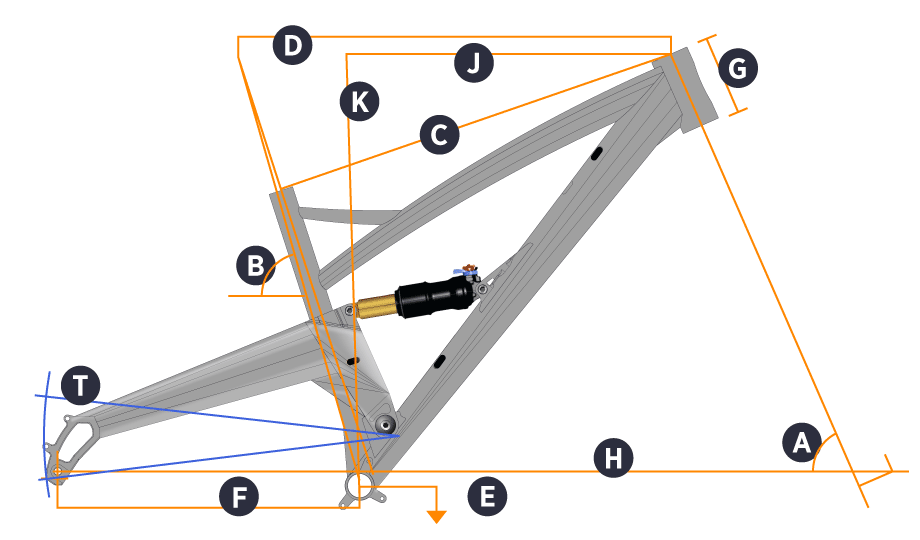 Frame Size
Small
Medium
Large
X Large
Rider Height Guidance*
5'4" to 5'7"
5'6" to 5'10"
5'9" to 6'1"
6'0" to 6'5"
Seat Tube Length
16"
17"
18"
20"
A. Head Angle
66º
66º
66º
66º
B. Seat Angle Actual
72º
72º
72º
72º
B. Seat Angle Effective
74º
74º
74º
74º
C. Top Tube
568
587
608
627
D. Top Tube (effective)
595
615
635
655
E. BB Height (from ground)
333
333
333
333
BB height (from axles
-20
-20
-20
-20
F. Chainstay
426
426
426
426
G. Head Tube
110
110
130
140
H. Wheel base
1156
1176
1199
1220
T. Rear Travel
140
140
140
140
J. Reach
422
442
457
474
K. Stack
608
608
626
635
Standover
715
720
740
790
Unless otherwise indicated all measurements are in mm. Frame angles are measured static, without rider sag. Bottom bracket height from ground is with 706 mm Ø tyre.
*This is for guidance only. You may be taller or shorter, it doesn't mean our bikes will not fit you. The best way to determine the correct bike size for you is to try one. Please contact us if you are in any doubt about the correct bike size for you.