Orange 2017 Alpine 6 Frame 27.5 (Including rear shock)
Add this product to your basket or calculate finance costs...
For detailed information about frame sizes – please view the frame size guide at the bottom of this page.
Description: Orange Alpine 6 2017 Frame 27.5 (Including rear shock)
The Orange Alpine 6 replaces the much loved Alpine 160 in our range. This new frame is the Alpine 160 re-engineered and we've revamped every aspect of the bike's performance. The Orange Alpine 6 is designed around 170mm front/160mm rear travel. We've slackened the head angle half a degree to keep the same alpine handling feel we love, yet make the most of the fork's extra 10mm.

The compact rear end we debuted on the Four model makes its way to the Orange Alpine 6, shortening the chainstay significantly by 9mm. The repositioned pivot also means that the whole rear triangle is more compact and more active. With the shock now effectively lowered in the chassis, the ramp-up effect is improved, and feedback from test riders has been nothing but positive. With even less flex in the rear, it's more active over small bumps and inspires confidence over the really rough stuff.

Even with the shortening of the rear triangle, other small changes in the frame construction mean that we retain a long and stable wheelbase along with the long top-tube/short stem model we love. With neat finishing touches like internal cable routing, every element of the frame's construction has been analysed and optimised, to the point that, size for size, the Orange Alpine 6 frame is significantly lighter than its predecessor.

While we have done everything we can to keep the Orange Alpine 6 the same as the Alpine 160, everything has changed – and we think you're going to love it.

The Orange Alpine 6 frame is the perfect starting point for your own all-mountain dream build.
Sunset offers the 2017 Orange Alpine 6 27.5 full suspension mountain bike frame with up to 24 months 0% finance and free delivery.
The 2017 Orange ALPINE 6 range: Alpine 6 Frame | Alpine 6 S | Alpine 6 Pro | Alpine 6 RS | Alpine 6 Factory
Size Guide: Orange Alpine 6 2017 Frame 27.5 (Including rear shock)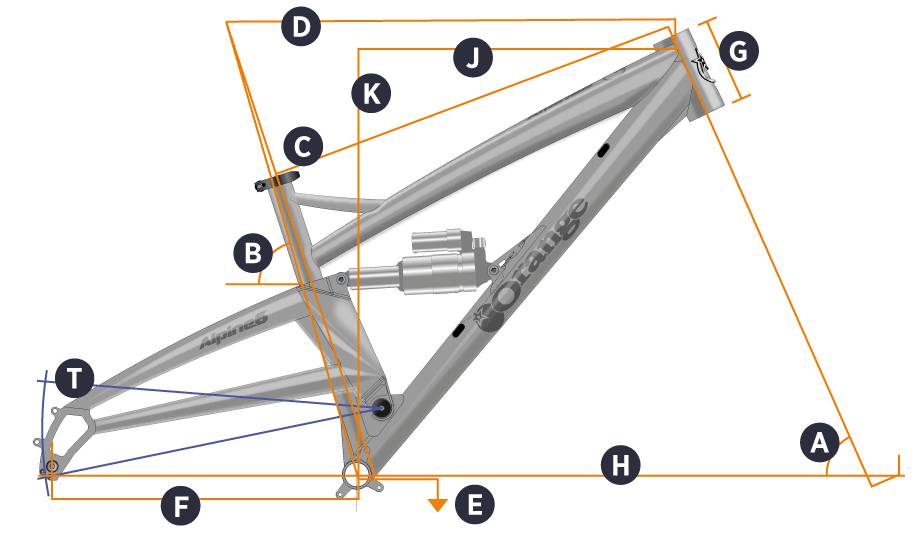 Frame Size
Small
Medium
Large
X Large
Rider Height Guidance*
5'4" to 5'7"
5'6" to 5'10"
5'9" to 6'1"
6'0" to 6'5"
Seat Tube Length
16"
17"
18"
20"
A. Head Angle
64.5°
64.5°
64.5°
64.5°
B. Seat Angle (Actual)
72°
72°
72°
72°
B. Seat Angle (Effective)
74°
74°
74°
74°
C. Top Tube
575
594
614
634
D. Top Tube (effective)
600
620
640
660
E. BB Height (from ground)
342
342
342
342
BB height (from axles
-12
-12
-12
-12
F. Chainstay
430
430
430
430
G. Head Tube
120
120
125
130
H. Wheel base
1190
1210
1231
1253
J. Reach
423
443
461
478
K. Stack
618
618
622
631
T. Rear Travel
160
160
160
160
Standover
730
745
758
792
Unless otherwise indicated all measurements are in mm. Frame angles are measured static, without rider sag. Bottom bracket height measured from ground with 715 mm Ø tyre.
*This is for guidance only. You may be taller or shorter, it doesn't mean our bikes will not fit you. The best way to determine the correct bike size for you is to try one. Please contact us if you are in any doubt about the correct bike size for you.