Orange 2017 324 Frame 27.5 (Including rear shock)
Add this product to your basket or calculate finance costs...
For detailed information about frame sizes – please view the frame size guide at the bottom of this page.
Description: Orange 324 2017 Frame 27.5 (Including rear shock)
With a long line of World cup winning heritage behind it, the Orange 324 is a downhill weapon of choice. Using our experience with the 22X/32X series of downhill bikes, the Orange 324 is the refined result of prototype feedback we've received from the team and plenty of the frame's features redesigned. Most notably taking the chassis to the 27.5 inch wheel size.

We've retained the through-the-downtube shock mount. This is a feature gives us the scope to place the single-pivot exactly where it needs to be in relation to the drive-train to achieve the kind of small bump performance and plush feel that most people would expect from much more complicated linkage and multi-pivot designs. In addition it means the frame's 'shock curve' is a smooth ramp. This feature allows for easy shock set-up, something that should be simple but is often hampered by variable paths. With the Orange 324 the suspension tuning is done with the suspension unit, keeping this simple is perfect for privateers who may not have a race support truck with a full-time shock technician for every track.

The Orange 324 uses the split-rear triangle swingarm concept that we also use on the Alpine 160. This reduces weight and increases rigidity on frames with long rear travel. Additionally we've added stability with the a wider 83mm bottom bracket and 150mm rear wheel spacing, minimised tortional twist which helps keep the rider on their line.

One of the major advantages of designing for the 27.5 inch wheel size is that the bottom bracket is now lower than the axle path at rest. This head start gives the bike a much more dug in feel when pushing through turns while also keeping the centre of gravity low for high speed straight line stability.

So wait that's a lot of work and more metal right? What's the weight penalty. Well you might be surprised to hear that size for size the Orange 324 frame comes up around 200g lighter than the 322.

It's hard work keeping things simple, but we believe with the Orange 324 we've built a downhill bike that will perform at the highest level, again and again and again with the minimum amount of maintenance and the maximum amount of time on the track.

If you want the Orange 324 but have your own components, we have a frame-only option. Spec it up with your old kit or pick and choose, build your dream bike around the best frame.
Sunset offers the 2017 Orange 324 downhill mountain bike frame with up to 36 months 0% finance and free delivery.
The 2017 Orange 324 range: 324 Frame | 324 RS 27.5 | 324 Factory 27.5
Size Guide: Orange 324 2017 Frame 27.5 (Including rear shock)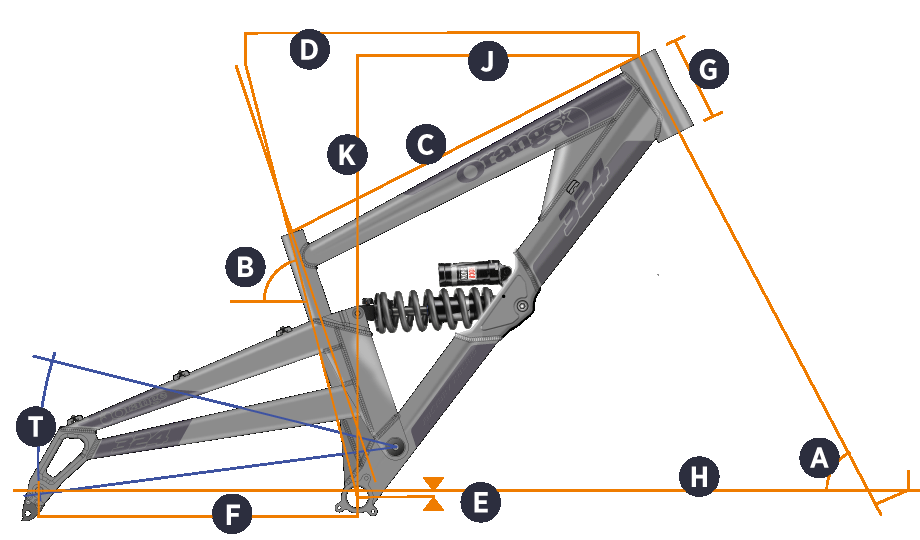 Frame Size
Medium
Large
X Large
Rider Height Guidance*
5'5" to 5'9"
5'7" to 5'11"
5'9" to 6'4"
A. Head Angle
63°
63°
63°
B. Seat Angle (Effective)
74°
74°
74°
B. Seat Angle (Actual)
71.5°
71.5°
71.5°
C. Top Tube
572
591
600
D. Effective TT
600
620
634
E. BB Height (From axle)
-10
-10
-10
E. BB Height (From ground)
344
344
344
F. Chainstay
445
445
445
G. Head Tube
120
130
130
H. Wheelbase
1233
1255
1269
J. Reach
424
441
455
K. Stack
619
629
629
T. Rear Travel
190
190
190
Shock Length
240
240
240
Seat Tube Ø
30.9
30.9
30.9
Standover
750
780
780
Unless otherwise indicated all measurements are in mm. Frame angles are measured static, without rider sag. Bottom bracket height measured from axle and 715mm tyre ø
*This is for guidance only. You may be taller or shorter, it doesn't mean our bikes will not fit you. The best way to determine the correct bike size for you is to try one. Please contact us if you are in any doubt about the correct bike size for you.