Orange 2017 Clockwork 100 Frame 29er
Description: Orange Clockwork 100 2017 Frame 29er
The 29er version of the Orange Clockwork just keeps us coming back for more. Even more so for 2017 as we've lengthened the top tube and shortened the stem for improved rider weight distribution. It will roll at speed all day long, and take on gnarly descents with a confidence most would baulk at.
The Orange Clockwork 100 is a sharp-looking, smooth-rolling hardtail that begs to be ridden hard but is more than happy cruising if that takes your fancy. The frame is ready for any future upgrades you might have in store for it. With geometry designed around a 100mm travel fork and a mission to extract the most smiles out of your trail-time the Clockwork is the product of what we do best, making bikes that make you want to ride.
Sunset offers the 2017 Orange Clockwork 100 29er hardtail mountain bike frame with up to 24 months 0% finance and free delivery.
The 2017 Orange CLOCKWORK range: Clockwork 120 Frame | Clockwork Evo Frame | Clockwork 100 29er | Clockwork 120 27.5 | Clockwork 100 S 29er | Clockwork 120 S 27.5 | Clockwork Evo Pro 27.5 | Clockwork Evo RS 27.5
Size Guide: Orange Clockwork 100 2017 Frame 29er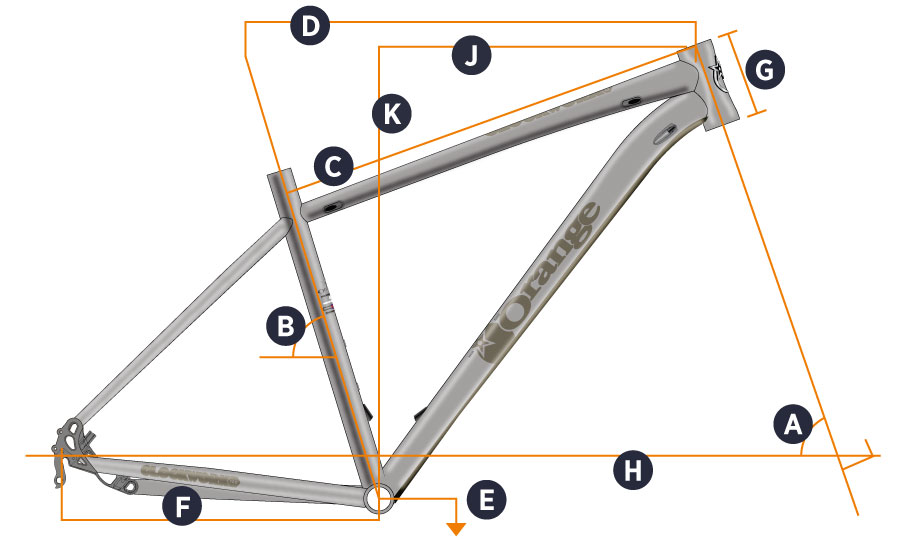 Frame Size
Medium
Large
X Large
Rider Height Guidance*
5'6" to 5'10"
5'9" to 6'1"
6'0" to 6'5"
Seat Tube
17"
19"
21"
A. Head Angle
70°
70°
70°
B. Seat Angle
73°
73°
73°
C. Top Tube
599
614
633
D. Effective TT
620
640
660
E. BB Height (axle diff)
-60
-60
-60
F. Chainstay
450
450
450
G. Head Tube
110
120
130
H. Wheelbase
1118
1139
1159
J. Reach
427
444
461
K. Stack
630
639
650
Stem Length
50
50
50
Standover
770
790
802
Unless otherwise indicated all measurements are in mm. Frame angles are measured static, without rider sag. Bottom bracket height measured from axle.
*This is for guidance only. You may be taller or shorter, it doesn't mean our bikes will not fit you. The best way to determine the correct bike size for you is to try one. Please contact us if you are in any doubt about the correct bike size for you.