Orange 2017 Stage 5 Frame 29er (Including rear shock)
Add this product to your basket or calculate finance costs...
For detailed information about frame sizes – please view the frame size guide at the bottom of this page.
Description: Orange Stage 5 2017 Frame 29er (Including rear shock)
Forget everything you thought you knew about bigger-wheeled bikes: the Orange Stage 5 is here. Designed to go further and faster whatever the terrain, this bike signals a new generation of trail-loving 29ers where nothing's off limits and everything goes.

Big wheels and a super-efficient pivot position help transfer more of your energy straight into the trail – great for carrying speed and tackling epics. Meanwhile, the Orange Stage 5's frameset geometry is slack enough for the steeps and long enough for superb stability, not to mention the chance to reap the handling rewards of running a short stem. A sweet spot of 140/135 travel helps flatten even the roughest rock gardens too – perfect for pace, comfort and efficiency.

With 148mm Boost rear spacing, internal dropper routing and a 5-year warranty on its handmade frame, the Orange Stage 5 is bang up to date and reassuringly future-proof. Make no mistake: in any of its guises this is one seriously versatile bike with an audaciously bold intention.
Sunset Cycles offers the 2017 Orange Stage 5 29er mountain bike frame with up to 24 months 0% finance and free delivery.
The 2017 Orange STAGE range: Stage 5 Frame | Stage 6 Frame | Stage 5 RS | Stage 6 RS | Stage 5 Factory | Stage 6 Factory | Stage 5 LE | Stage 6 LE
Size Guide: Orange Stage 5 2017 Frame 29er (Including rear shock)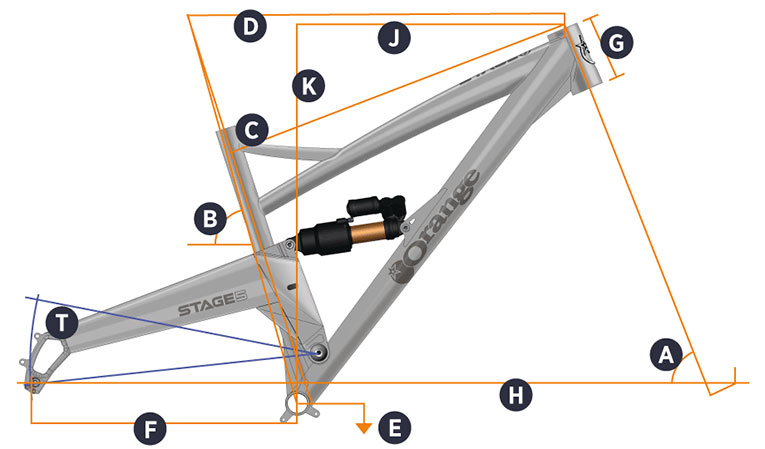 Frame Size
Medium
Large
X Large
Rider Height Guidance*
5'6" to 5'10"
5'9" to 6'1"
6'0" to 6'5"
Seat Tube Length
17"
18"
20"
A. Head Angle
66.5°
66.5°
66.5°
B. Seat Angle (Actual)
71.5°
71.5°
71.5°
B. Seat Angle (Effective)
74°
74°
74°
C. Top Tube
585
604
623
D. Top Tube (effective)
615
635
655
E. BB Height (from ground)
335
335
335
BB height (from axles
-35
-35
-35
F. Chainstay
445
445
445
G. Head Tube
100
110
120
H. Wheel base
1183
1204
1225
J. Reach
436
453
470
K. Stack
624
633
642
T. Rear Travel
135
135
135
Standover
720
742
795
Unless otherwise indicated all measurements are in mm. Frame angles are measured static, without rider sag. Bottom bracket height measured from ground with 740 mm Ø tyre.
*This is for guidance only. You may be taller or shorter, it doesn't mean our bikes will not fit you. The best way to determine the correct bike size for you is to try one. Please contact us if you are in any doubt about the correct bike size for you.
You may also be interested in the following products...
Orange 2017 Stage 6 Frame 29er (Including rear shock)
Our Price £1,865.00 0% Finance From £69.94 per month Classic Finance From £44.36 per month
Our Price £5,500.00 0% Finance From £137.50 per month
Out of Stock