Orange 2017 Segment Frame 29er (Including rear shock)
Add this product to your basket or calculate finance costs...
For detailed information about frame sizes – please view the frame size guide at the bottom of this page.
Description: Orange Segment 2017 Frame 29er (Including rear shock)
Designed to be the fastest all-rounder we could make, the Orange Segment takes preconceptions about what is possible on a short travel bike and pulls them apart. This is the 2nd generation Segment frame. Revisited, reshaped, and re-honed. All new CNCed frame parts, and thinner aluminium sheet shed the overall frame weight by around 400g. We added 6mm to the width of the pivot along with 148mm Boost rear hub spacing to provide even more lateral stiffness than the 1st generation model.
Sunset offers the 2017 Orange Segment 29er mountain bike frame with up to 24 months 0% finance and free delivery.
The 2017 Orange SEGMENT range: Segment Frame | Segment S | Segment Pro | Segment RS | Segment Factory
Size Guide: Orange Segment 2017 Frame 29er (Including rear shock)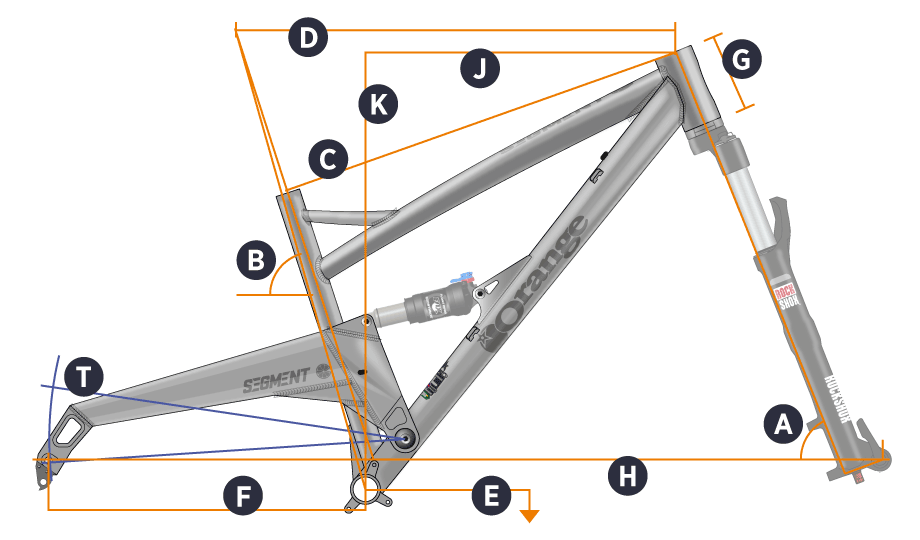 Frame Size
Medium
Large
X Large
Rider Height Guidance*
5'6" to 5'10"
5'9" to 6'1"
6'0" to 6'5"
Seat Tube Length
17"
19"
21"
A. Head Angle
68°
68°
68°
B. Seat Angle (Actual)
71.5°
71.5°
71.5°
B. Seat Angle (Effective)
74°
74°
74°
C. Top Tube
591
600
623
D. Top Tube (effective)
610
630
650
E. BB Height (from ground)
335
335
335
BB height (from axles
-40
-40
-40
F. Chainstay
447
447
447
G. Head Tube
110
110
130
H. Wheel base
1167
1187
1208
J. Reach
435
455
468
K. Stack
612
612
631
T. Rear Travel
110
110
110
Standover
732
767
807
Unless otherwise indicated all measurements are in mm. Frame angles are measured static, without rider sag. Bottom bracket height measured from ground with 740 mm Ø tyre.
*This is for guidance only. You may be taller or shorter, it doesn't mean our bikes will not fit you. The best way to determine the correct bike size for you is to try one. Please contact us if you are in any doubt about the correct bike size for you.